Berges, Miriam y Casellas, Karina (2009). Consumers' willingness to pay for milk quality attributes. Comunicación presentada en 27 Conference of the International Association of Agricultural Economists, Beijing [CHN], August 16-22, 2009.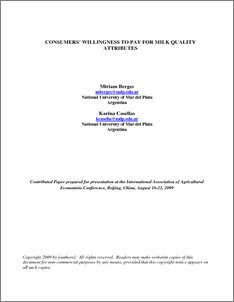 Vista Previa
PDF

- Versión aceptada
Disponible bajo Licencia 2.5 Argentina
Descargar

(90kB)
Resumen
Supply and the demand for food products have experienced important changes in the last decades. From the supply side, the firms produce a great variety of products and quality and standards requirements are implemented along the supply chain. From the demand side, new preferences for food products arise promoted by socio-demographic and consumer behavior changes. Additional nutrients and enhanced production processes are considered quality attributes over which consumer decides at the purchase choice. Following contingent valuation method, this paper evaluates willingness to pay for quality attributes using fluid milk as study case and the data of a consumer survey conducted in Mar del Plata city, Argentina. Our results suggest a low willingness to pay in spite of consumers' concerns about food quality. WTP rises with the level of information they process and with quality and food safety priorities rather than price at purchasing food.
| | |
| --- | --- |
| Personal Autorizado: | Editar ítem |