Rodríguez, Elsa Mirta M.; Lacaze, María Victoria

ORCID: https://orcid.org/0000-0002-8514-5182 y Lupín, Beatriz

ORCID: https://orcid.org/0000-0001-6800-0312 (2008). Contingent valuation of consumers' willingness-to-pay for organic food in Argentina. Comunicación presentada en 12 Congress of the European Association of Agricultural Economists, Ghent [BEL], August 26-29, 2008.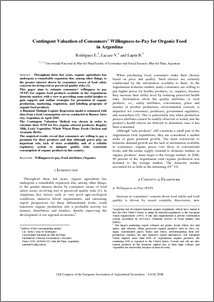 Vista Previa
PDF

- Versión publicada
Disponible bajo Licencia CC Atribución-NoComercial-SinDerivadas
Descargar

(126kB)
Resumen
Throughout these last years, organic agriculture has undergone a remarkable expansion due, among other things, to the greater interest shown by consumers aware of food safety concerns involving real or perceived quality risks [1]. This paper aims to estimate consumers' willingness to pay (WTP) for organic food products available in the Argentinean domestic market, with a view to providing some useful insights to gain support and outline strategies for promotion of organic production, marketing, regulation, and labelling programs of organic food products. A Binomial Multiple Logistic Regression model is estimated with data from a food consumption survey conducted in Buenos Aires city, Argentina, in April 2005. The Contingent Valuation Method was chosen in order to calculate their WTP for five organic selected products: Regular Milk, Leafy Vegetables, Whole Wheat Flour, Fresh Chicken and Aromatic Herbs. The empirical results reveal that consumers are willing to pay a premium for these products and that although prices play an important role, lack of store availability and of a reliable regulatory system to mitigate quality risks constraint consumption of organic products in this country.
| | |
| --- | --- |
| Personal Autorizado: | Editar ítem |