Rodríguez, Elsa Mirta M. y Lacaze, María Victoria

ORCID: https://orcid.org/0000-0002-8514-5182 (2005). Consumer's preferences for organic food in Argentina. Comunicación presentada en 15 IFOAM Organic World Congress, Adelaide [AUS], September 20-23, 2005.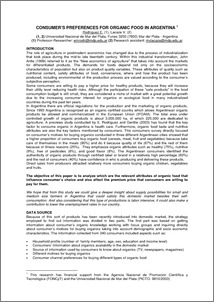 Vista Previa
PDF

- Versión publicada
Disponible bajo Licencia 2.5 Argentina
Descargar

(60kB)
Resumen
The objective of this paper is to analyze which are the relevant attributes of organic food that influence consumer's choice and also affect the premium price that consumers are willing to pay for them.
| | |
| --- | --- |
| Personal Autorizado: | Editar ítem |