Bertolotti, María Isabel; Blanco, G. y D'Atri, W. M. (2010). Comparison of economic and social self-reported data by industry with at- sea observer program to characterize the Argentinean fleet. Póster presentado en Fishery Dependent Information Conference, Galway [IRL], August 23-26, 2010.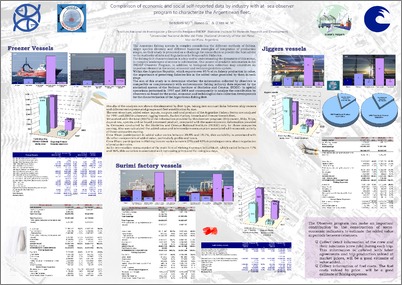 Vista Previa
PDF

- Versión publicada
Disponible bajo Licencia 2.5 Argentina
Descargar

(4MB)
Resumen
The aim of this study is to determine whether the information collected by observers is compatible or complementary with socioeconomic fishing industry data reported by the statistical system of the National Institute of Statistics and Census, INDEC- in special operations performed in 1997 and 2004 and consequently to analyze the contribution by observers on board for the social, economic and technological data collection developments for the characterization of the Argentinean fishing fleet.
| | |
| --- | --- |
| Personal Autorizado: | Editar ítem |