de Coulon, Sonia y Baltar, Fabiola (2013). Understanding the dynamic of the entrepreneurial process: the innovative entrepreneur and the strategic decisions. Comunicación presentada en Global Conference on Business and Finance, Las Vegas [USA], January 2-5, 2013. ISSN 1941-9589.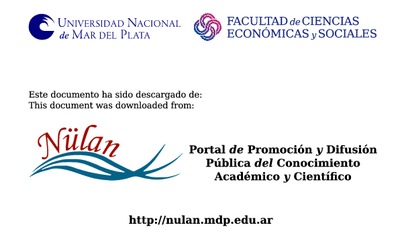 Vista Previa
PDF

- Versión publicada
Disponible bajo Licencia 2.5 Argentina
Descargar

(773kB)
Resumen
Literature regarding to the process of firm's start-ups has supported the idea that the entrepreneur fulfills a key role in the economic development, because of his strategic vision and as a result of his capacity to generate innovations, but also employment and economic growth. Nevertheless, recent empirical studies, have mainly tackled the process from the demand perspective, with focus on institutional, economical and context aspects that favours or hinders the development of the entrepreneurial capacities. In this sense, the entrepreneur's role, his skills, his decisions and actions have been less observed from the economical field and from the strategic decision area. Even though the debate about the importance of recognizing the subjectivity forecasting of the key drivers that impact and define the observed phenomenon is increasing. The aim of the article is to understand the innovative entrepreneur's role in the entrepreneurial process through the use of a biographic design method, so as to identify throughout his life the way he decides to initiate a firm, how he experiences the process and evaluates its performance. For that reason, it is proposed to analyze Enrique Eskenazi's entrepreneurial life, Grupo Petersen's President, one of the leading economic groups in the Argentinean business arena. His public recognition is associated to the YPF S.A's shares purchase in 2008 - the Leader oil company in the Argentinean market -, which has been recently nationalized.
| | |
| --- | --- |
| Personal Autorizado: | Editar ítem |