Pontoni, Gabriela A. (2012). The power of trucks in Argentina. Labor relations in the road transportation sector after 2003. Comunicación presentada en 16 World Congress of the International Labour and Employment Relations Association, Philadelphia [USA], July 2-5, 2012.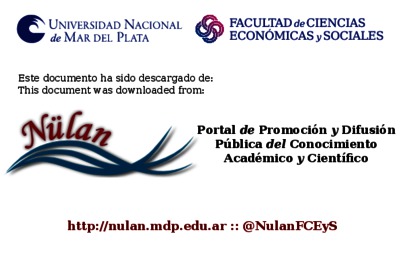 Vista Previa
PDF

- Versión publicada
Disponible bajo Licencia 2.5 Argentina
Descargar

(360kB)
Resumen
The main purpose of this paper is to describe and analyze the structure and composition of labor relation's actors in the road transport sector (RT) in Argentina, after the post-convertibility regime (2003). As regards the actor, we study the structure of the main union that represents in Argentina the workers in this sector. It is called Federación Nacional de Trabajadores Camioneros, Obreros y Empleados del Transporte Automotor de Cargas, Logística y Servicios, and the unions joined to it. Therefore, and for simplicity matters, we have decided to call them "Truckers". On the other side, we describe the employers' organization into a macro level of the analysis. Then we display the structure of this actor and finally we reflect on the way employers behave in this sector. This paper is a descriptive, exploratory and preliminary study. In that way, we focus in three key issues of analysis intertwined with each other: the political and institutional frame, the economic context and finally labor relations' development during post-convertibility regime in Argentina. The method in which we based our analysis was a case study of the Argentinian trucking industry and the development of its federation. For this, we did some preliminary interviews to workers and sectorial's business men; we also collect more information through secondary sources like union's articles, official statistics, sectorials' academic papers, etc.
| | |
| --- | --- |
| Personal Autorizado: | Editar ítem |