González, Julia (2012). Heterogeneous preferences, market structure and new goods in the Argentinean frozen fried potato industry. Comunicación presentada en XLVII Reunión Anual de la Asociación Argentina de Economía Política, Trelew [ARG], 14-16 noviembre 2012. ISBN 978-987-28590-0-8.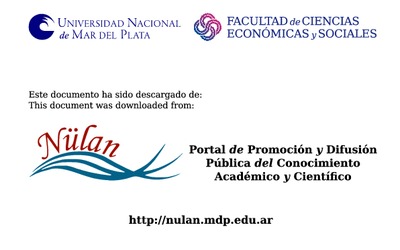 Vista Previa
PDF

- Versión publicada
Disponible bajo Licencia 2.5 Argentina
Descargar

(1MB)
Resumen
This article studies the preference structure of frozen fried potatoes consumers in Mar del Plata, Argentina, and the effect of changes in market structure and the addition of a new product on prices, market shares, and welfare. Heterogeneity in consumer preferences is found, driven by demographic characteristics. Consumer surplus would decrease with a merger between the two smaller firms of the market, and would increase if the market turned into a single-product firms industry. The results emphasize the importance of both agronomic issues and consumer preferences for the success of the introduction of a credence-attribute in a food industry.
| | |
| --- | --- |
| Personal Autorizado: | Editar ítem |