Berges, Miriam; Casellas, Karina; Rodríguez, Ricardo y Errea, Damián (2015). Willingness to pay for quality attributes of fresh beef. Implications on the retail marketing. Comunicación presentada en 29 International Conference of Agricultural Economists, Milan [ITA], August 8-14, 2015.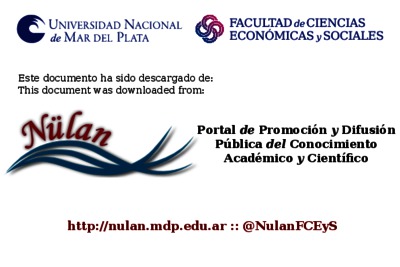 Vista Previa
PDF

- Versión publicada
Disponible bajo Licencia 2.5 Argentina
Descargar

(258kB)
Resumen
In recent decades, the demand for food worldwide has undergone significant changes that have highlighted the issue of the quality and safety food crisis associated with consumption of fresh meat, consumer concerns about the quality and safety of these products has been safety of fresh meat consumption are not The aim of this work is to investigate the consumers' perceptions of safety and identify factors that help explain the willingness to pay safety of the product, including, a hypothetical hygiene certification in handling and retailing. The results indicate a positive and statistically significant for the following attributes of fresh meat WTP: personalized attention in a butcher counter, the presence of a "safety certification" in the place of purchase and the bright red color on the product.
| | |
| --- | --- |
| Personal Autorizado: | Editar ítem |